Symphonic metal is one of the more popular subgenres found in heavy metal music. The distinctive sound retains the heavy guitars and percussion of metal, while also mixing in different elements from classical music. This can include operatic vocals, orchestras and symphonic instruments. Occasionally electric keyboards are also used.
This subgenre is sometimes referred to as operatic metal due to the predominance of classically trained female singers. The juxtaposition of heavy and soft is a key part of this type of music. Therefore, the duets between sopranos and gruff male vocalists are common. Modern film scores are an important influence, especially the work of Hans Zimmer.
Nightwish
Tarja Turunen served as the original vocalist for this Finnish group. Her strong soprano voice made Nightwish distinctive. They are best known for their hit songs Nemo and I Wish I Had An Angel. Over the years their lineup has changed but their symphonic sound has more or less stayed the same.
Within Temptation
This Dutch band has a focus on the Gothic elements of metal. Their lead singer, Sharon den Adel is known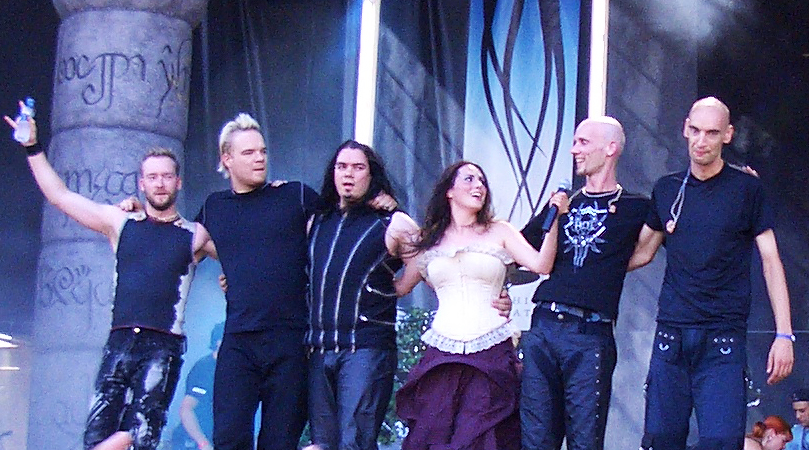 for her high pitched voice. The group's lyrics are inspired by fairy tales and stories from ancient history. Within Temptation have a soft and ethereal style, while still retaining the guitars popular in heavy metal.
Delain
Charlotte Wessels fronts Delain, a group created by a former member of Within Temptation. Her energetic role during their live gigs has made them one of the most recognised symphonic metal bands. April Rain stands out as their best album. In 2009 Delain served as the opening band for the Sonisphere festival, a weekend-long event that attracted thousands of metal fans.
Leave's Eyes
Leaves' Eyes are made up of figures from the metal scene who hail from Germany and Norway. Viking and Norse mythology are a key component to their songs. For instance, the track New Found Land depicts a longship full of men exploring the sea, searching for undiscovered countries.
Cradle Of Filth
Cradle Of Filth are well known for the raspy, harsh nature of their vocals. These are often mixed with softer voices from guest singers. Their songs deal with horror influenced themes. To date, their most popular song is Nymphetamine, released in 2004.